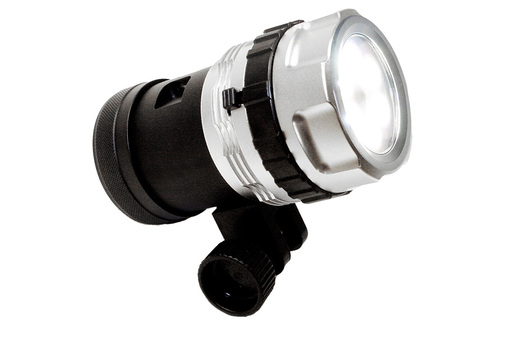 Galaxy Video Light

model# GVL with 2500 lumens, waterproof to 400 feet, features 140 degree wide angle beam, a removable rechargeable Li-ion battery providing 1 hour burn time at full power /2 hours at 50% power/ 3 hours at 30% power and video mount adapter
(Y clamp) for attaching to standard flex arm.
Light intensity adjustable from low, medium to full power with rotating magnetic switch. Carry case with charger, universal plug set and extra set of O-rings included. Anodized aluminum construction. Dimensions: 4.4″ x 2.75″ x 3.75″, weight 1 lbs 8.6 oz. Product specifications subject to change without notice.

IMPORTANT NOTE: To insure durability of the rechargeable Li-ion batteries, keep batteries fully charged. DO NOT allow batteries to become exhausted. Recharge as needed or once every 3 months if not in use for long periods. When not in use, or for travel, unscrew battery slightly to prolong battery life and avoid accidental turn on.


*Check for availability